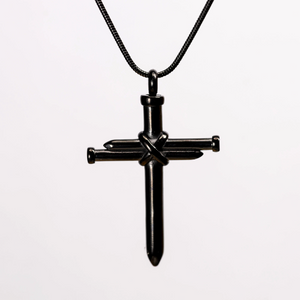 Black Nail Cross Cremation Urn Pendant
Regular price £19.99 Sale
This solid 316L Stainless Steel pendant is a unique shape made from black nail shapes to form a cross.  Measuring approximately 5.25cm in overall height and 4cm in width. This pendnat is 

designed to hold a small 'token' amount of a loved one or pet's ashes, ensuring that there is always a part of them held close to your heart.

Stainless Steel is hypoallergenic and is suitable for people with allergies.

Measuring approximately 1.5cm/0.59" in overall height and 1.5cm/0.59" in width.
The solid 316L Stainless Steel 'box' chain in matching black measures approximately 18"
Each Pendant comes beautifully presented in its own Gift Box along with a small plastic funnel to help when filling the pendant.