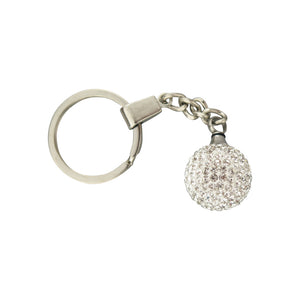 Crystal Ball Cremation Urn Keychain
Regular price £14.99 Sale
This unique keychain is designed to hold a small 'token' amount of a loved one or pet's ashes, ensuring that there is always a part of them with you wherever you go.
This solid 316L Stainless Steel keychain is white and covered with sparkling czech crystals and is attached to a good quality keychain and chain.
The ball measuring approximately 2cm/0.78" in height and 2cm/0.78" in width. Chain length is 3cm / 1.57" in total, keyring is 3cm / 1.18" in diameter.
Each keychain comes presented in its own small black velvet bag with plastic funnel to help fill the keychain.
Although not always necessary, as some people handle keys more than others and have different amounts of keys on their bunches, it may be sensible to seal the keychains closed with superglue or glue that's suitable for metal once the urn is filled.