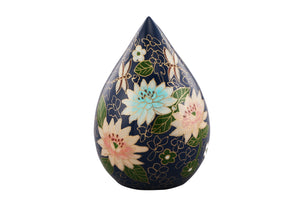 Hand Painted Teardrop Navy Flower Cremation Urn for Adult or Pet
Regular price £99.95 £69.95 Sale
When you lost someone close to your heart you need a high quality Hand Painted Teardrop cremation urn to hold their ashes. This stunning cremation urn is handcrafted to give your loved one's remains the superior quality they deserve.

This beautiful cremation urns is suitable for human ashes is made from solid metal which is coated with an enamel coating to give a porcelain-look finish.

This adult urn is 11 inches tall 7 inches wide. Capacity of 200 cubic inches, capable of holding the remains of a 220lb person pre-cremation

It has a threaded secure compartment underneath it which will keep the ashes safely inside. Each urn is handcrafted by skilled artisans which brings wonderful detail. As these are hand painted and hand crafted, they may differ making each one unique to you.

This is suitable to be kept indoors or outside in a garden as it is made of metal it will not decompose and the enamel finish means it will not discolour.