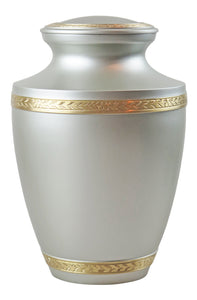 Large Silver and Gold Olympia Adult Brass Urn with Optional Personalisation
Regular price £89.95 £59.95 Sale
This stunning large adult sized brass urn is handmade by skilled artisans including the painting and carving of the intricate design.

The design of this urn has a stunning silver matte hand painted finish with delicate brushed gold patterns on it.

The urn is made from solid brass ensuring it can be buried if desired as it will never degrade.
The urn measures approximately

20"/50.8cm in diameter x 10"/25.4cm in height.

It is a large size which is suitable for cremains of a large dog or an adult up to approximately 250lbs/113kg.
It has a threaded secure lid which will keep the ashes safely inside.
Each urn is handcrafted by skilled artisans which brings wonderful detail. As these are hand painted and hand crafted, they may differ making each one unique to you.